The Impact of Fluctuating Preceptors Recruitment and Retention in View of an Increasing Medical School Class Size
By Dolapo Babalola, MD; Afolake Mobolaji MD; Bridgette Welch, MS-HRM; Rosalyn Stubbs, ABS,  Morehouse School of Medicine
Introduction
In 2005, the Association of American Medical Colleges (AAMC) called on US medical schools to increase class size by 15% to 30% to address a projected shortage of physicians during the coming decades.
Georgia particularly felt the urgency of this impending physician shortage. According to a 2008 study commissioned by the Medical College of Georgia, the state was on the verge of a health care crisis due to a drought of physicians. It was noted that without changes in the state's medical education system, Georgia would rank last in the United States in physicians per capita by 2020.
Problem Identified
Morehouse School of Medicine (MSM) President Valerie Montgomery Rice recognized the state's insufficient number of primary care physicians, including a specific lack of minority physicians, and how this negatively affected low-income areas in Georgia. As MSM has a specific commitment to train minority doctors who go on to work in underserved communities, the school stepped in to develop a plan to address this physician shortage. 
Intervention for the Entire College of Medicine
The birth of "Paving the Road to 100: A Legacy of Educational Excellence" began as part of MSM's commitment to educating and preparing future health leaders to provide medical care in underserved communities. The first step in this plan was a strategic increase in the enrolling class size from 54 students in 2012 to a goal of 100 students by 2017. The increase was planned to happen in increments of 10-12 students per year. 
Specific Family Medicine Clerkship Interventions
The goal of the family medicine clerkship was to provide continued high-quality education to this increased number of students. In order to do this, we determined that we needed to ensure recruitment of more preceptors and retention of current preceptors; the following interventions were implemented: 
Georgia Academy of Family Physicians (GAFP) sent out an email announcement for interested community preceptors (CPs). This helped to recruit preceptors, especially between 2014-2017, when we experienced a decline in the number of preceptors due to retirees, closing practices, and career changes. 
We collaborated with AHEC (Area Health Education Center) to recruit CPs and housing sites, and solicited referrals for CPs from MSM alumni and other physicians. 
In April 2014, Governor Nathan Deal signed legislation that created tax deductions of up to $10,000 for community-based faculty physicians who provide training to medical, physician assistant, and nurse practitioner students enrolled in a Georgia school. Providers can claim a tax deduction of $1,000 per student for every 160 hours of training provided for a minimum of three (to a maximum of 10) rotations, and who are not compensated through any other source.
Community preceptors were awarded gratitude plaques and $50 Starbucks gift cards at the end of each school year. This was sponsored by the MSM Department of Family Medicine. 
Results of Interventions
Figure 1 illustrates the increase in class size from 2011 to 2018, from 54 to 100 students. At the same time, Figure 2 demonstrates a fluctuating increase in the number of recruited and maintained preceptors during the period in which MSM was increasing its class size in spite of the discussed interventions. The slight decrease in CPs observed between FY 2014-2015 and FY 2017-2018 was multifactorial for reasons such as retiring preceptors, change of career paths, and compensation requests. The impact of the fluctuating CPs recruitment and retention process and its challenges in light of the increasing class size made us further discuss strategic planning involved in the birth of "Paving the Road to 100." We needed to continuously be proactive and creative with systems to ensure we have adequate CPs while still maintaining a high-quality education for our increasing number of students in spite of unforeseen changes. These methods supported the goals to nurture well-trained future physicians and consequently closed the gap for physician shortage in Georgia.
Figure 1: Incremental Class Size Increase, 2011 to 2018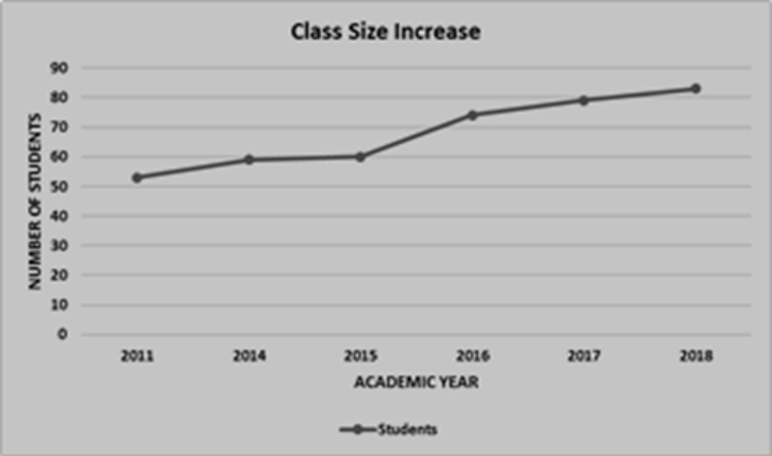 Figure 2: Number of Community Preceptors, By Year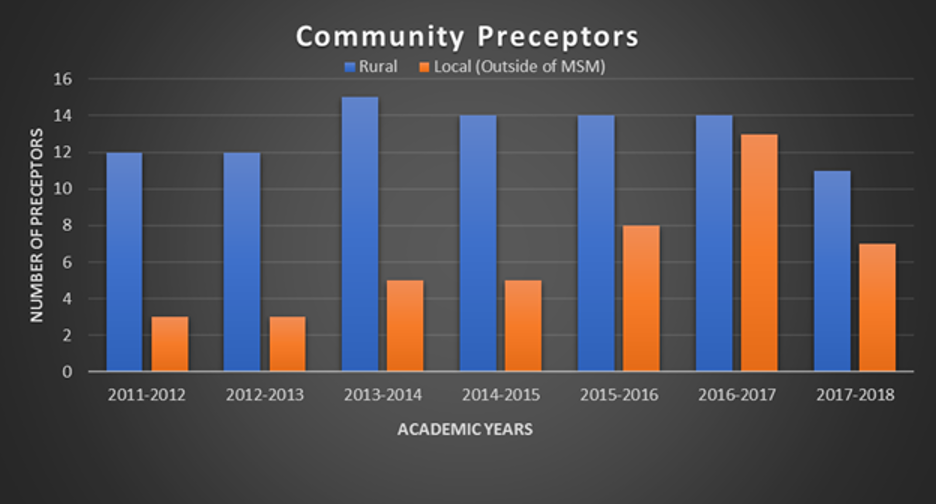 Conclusion
We found that while schools face short-term challenges with an increased class size, such as the need for additional learning materials, space and community preceptors, these challenges are offset by long-term gains, that include closing the gap in physician shortage. Our experience with a multifaceted approach to strategic planning, involving both organization announcements and recruitment and material incentives, could be used to assist other institutions aiming to increase their class size and subsequently needing to recruit and retain preceptors.
References
Bunton SA, Salsberg E. Impact of increasing class size. Acad Med. 2009;84(1):8. doi:10.1097/ACM.0b013e318190164c
Hemmer, Paul A., Tod Ibrahim, Steven J. Durning. The impact of increasing medical school class size on clinical clerkships: a national survey of internal medicine clerkship directors. Acad Med. 2008; 83(5):432-437. doi:10.1097/ACM.0b013e31816bde59
Schieffler D, Azevedo B, Culbertson R, Kahn M. Financial implications of increasing medical school class size: does tuition cover cost. Perm J. 2011. doi:10.7812/TPP/11-144