Customized Faculty Development at Your Institution or Program
Meet ACGME and/or LCME requirements, save on travel expenses, and provide CME opportunities with a customized faculty development workshop at your location. Our faculty will use interactive methods to engage your faculty and promote evidence-based teaching principles. Pay one lump sum and invite your faculty and preceptors. 
Benefits
This innovative training program: 
Eliminates the need for expensive and time-consuming travel.

Helps your program define actionable plans and next steps.

Earns CME—approved for up to 6 Prescribed Credits by the American Academy of Family Physicians.
Meets accreditation requirements for faculty development.

Encourages the adoption of evidence-based teaching principles.

Includes a follow-up consultation with your program director or department chair.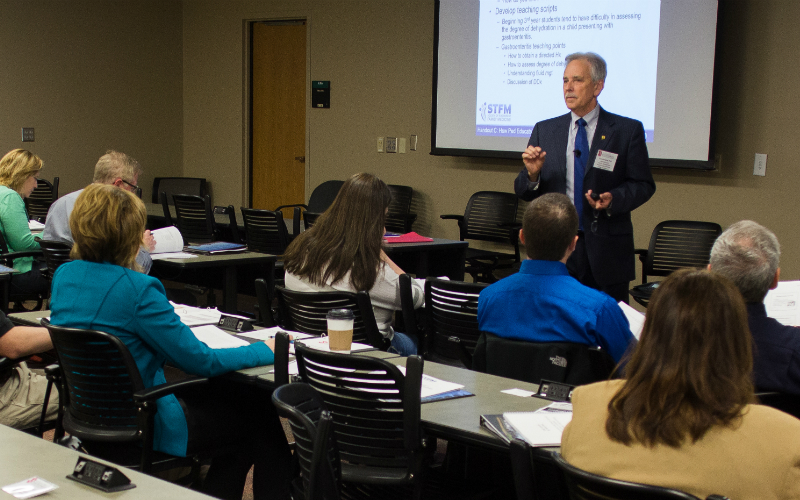 "
STFM on the Road provided a means for many of our preceptors to get training they might not have been able to receive. Having the training come to us was economical and well worth the investment. In addition, the STFM staff coordinating the program met all of our planning needs, and our STFM faculty presenter, Dr Alison Dobbie, was able to tailor the day's activities and topics to interests of a very diverse group that included doctors from various specialties, pharmacists, and nurses. I would recommend this to any organization for an efficient and economical way to provide professional development opportunities to their faculty!
Lisa Browning
Riverstone Health
"
The STFM workshop provided a strong sense of direction, putting us 'On the Road to Success,' involving our whole department and re-energizing us individually to pursue our scholarly goals and dreams.Both speakers were awesome and very down to earth, providing the basic tools and nuts and bolts for our academic survival and success.
O. Noriega, MD
residency program director, Texas Tech University Health Sciences Center
"
Dr Dobbie is a master teacher. Her audience was composed of 15 faculty members with a wide range of experience and she was able to meet the learning needs of all. Her recommendations were practical; her examples resonated; and her enthusiasm was contagious!
"
Our chief resident was especially glad to have participated. He told me that he really appreciated how she didn't pull punches. Yet her message was also quite palatable.