"On-the-Fly" Evaluations: Promoting Resident Feedback
Rebecca Burke, MD and Victor Sierpina, MD, University of Texas Medical Branch Family Medicine Residency
Providing feedback is an essential skill that physicians perform regularly. Formal training using validated feedback techniques allows one to become more skilled at giving and receiving feedback. While teaching faculty are typically provided feedback training or literature on the topic, formal resident feedback training is generally sparse, and developing mechanisms to allow for frequent and anonymous resident evaluation of faculty is challenging.
Following an annual Accreditation Council for Graduate Medical Education (ACGME) survey, the University of Texas Medical Branch Family Medicine Residency Program recognized faculty-resident feedback as a quality improvement opportunity. Specifically, residents sought better feedback following assignment completion and requested an enhanced process to ensure confidentiality of evaluations they completed. The program's chief residents led a resident-only meeting to address the survey concerns, and a faculty-resident retreat ensued to provide formal feedback technique training to faculty and residents, teach cultural sensitivity, and foster closer faculty-resident relationships.
While the residency retreat met its stated goals overall, a paramount issue was raised as to how residents can give routine feedback to their faculty without fear or recrimination. A mechanism to provide regular faculty feedback can help improve teaching skills, create a culture that fosters feedback, and improve sensitivity to unconscious biases. This upward feedback model needs to be anonymous, ensure confidentiality, and promote the spirit of the educational alliance. This allows us to achieve better communication, care for each other as professionals and people, and commit as colleagues to the educational and patient care process. To meet these needs, an electronic "On-the-Fly" feedback evaluation form was created through New Innovations, a web-based software application popular among graduate and undergraduate medical educators.
The secure online housing of "On-the-Fly" evaluation forms allows residents to log in to New Innovations to access and complete an evaluation at any time. After selecting the "On-the-Fly" form, residents choose which faculty member they desire to evaluate. Residents then rate the faculty member on the six ACGME core competencies: patient care, medical knowledge, practice-based learning and improvement, interpersonal and communication skills, professionalism, and systems-based practice. Ratings are on a scale from 1 (unsatisfactory) to 9 (superior), and include an option for "insufficient contact." Residents are able to provide specific comments for each competency evaluated along with overall comments. The evaluation takes less than 5 minutes to complete and is shown below (see sample "On-the-Fly" Evaluation below).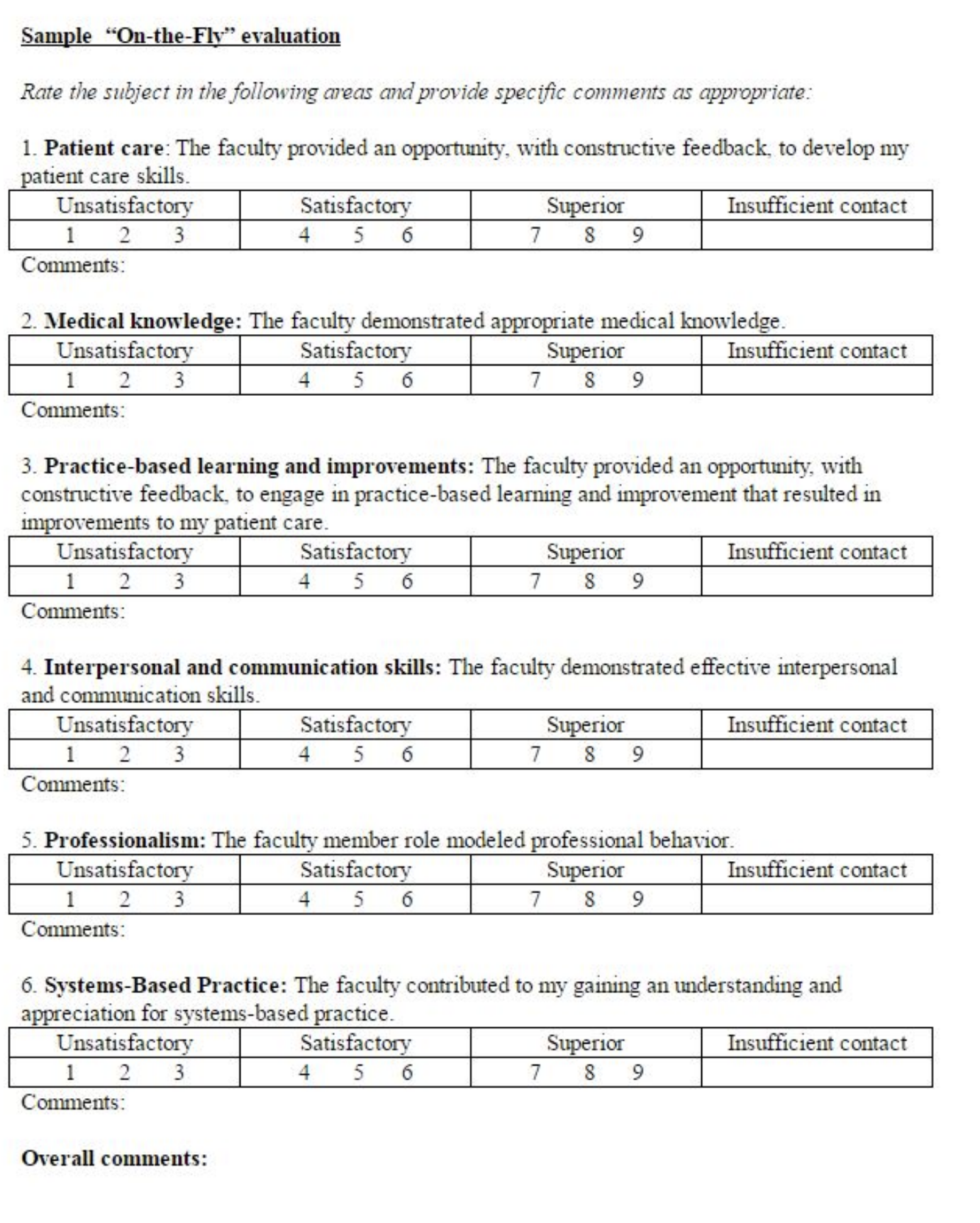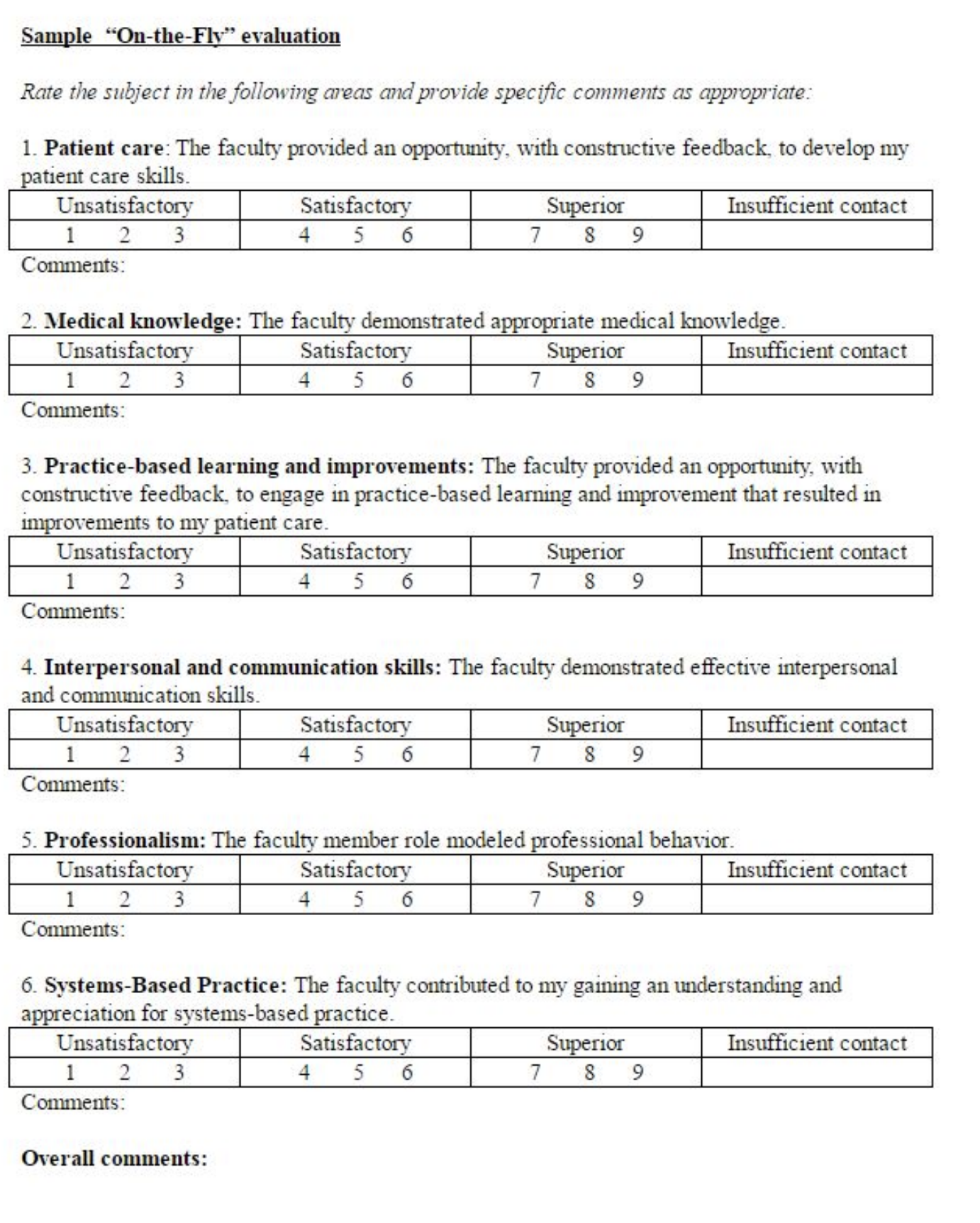 In summary, feedback is always two-sided—there is a giver and a receiver. Developing a mechanism for residents to provide anonymous feedback to faculty on a regular basis guarantees that resident voices are heard and that trainees are not only on the receiving end of the feedback loop. An environment conducive to learning on all levels is achieved when mutual trust and respect are ensured and when feedback is given without fear of retaliation. "On-the-Fly" evaluations promote transmission of high-quality feedback that allows residents and faculty to address learning needs, helps strengthen bonds within training programs, and equips all with skills to use throughout their medical careers.
Further information on feedback techniques can be found at teachingphysician.org.
Options for online software to help evaluate your training program:
New Innovations: https://www.new-innov.com/pub/
One-45: https://www.one45.com/
InstantEval: http://instanteval.com/