Playing the Part: Effective Resident Orientation for Group Medical Visits Using a Mock Visit
Carmen Strickland, MD, MPH, Wake Forest Baptist Health, Winston-Salem, NC
Group Medical Visits (GMVs) are patient-centered medical home (PCMH) tools that can improve the care of chronic conditions. As early as 2008, the American Academy of Family Physicians published a policy supporting GMVs, also called Shared Medical Appointments. Currently, the National Committee for Quality Assurance lists GMVs as "alternative clinical encounters" that award practices points toward PCMH accreditation. Mock GMVs present unique training opportunities for residency programs.
At Wake Forest Baptist Health, second-year family medicine residents are introduced to the concept of GMVs through a 90-minute mock experience (see Sample Mock GMV Agenda below). Residents are assigned roles as patients or support personnel and receive a brief bio sketch of the individual they will be "playing." Faculty members with knowledge of GMVs play the provider role. Nurses or medical assistants serve as co-facilitators and assist with obtaining vital signs and improving visit flow. During the mock GMV, patients (residents) rotate through several stations to accomplish registration, vitals, self-assessment (eg, interactive worksheets, nutrition label review), and brief provider assessment. This process takes about 30 minutes, after which the patients (residents) join their support persons (fellow residents) in a large circle to participate in a group discussion facilitated by a provider (played by faculty). Due to multiple individuals being involved in the mock GMV, ample space, such as a conference room, provides an ideal setting.
Patients, support persons, and providers then have an interactive group discussion on a pertinent topic (eg, goals and barriers of blood glucose monitoring during a mock Diabetes GMV) that is typically guided by real-patient comments. The goal of the facilitated discussion is to demonstrate how providers engage patients in meaningful discussion and manage group dynamics to benefit the whole.
Upon completion of the facilitated discussion, the residents and faculty break out of their assigned roles and discuss the GMV experience. During this portion of the session, data supporting GMVs as models for improved patient outcomes is highlighted; provider benefits of GMVs are emphasized; implementation strategies, reimbursement models, and other general issues are discussed; and behavioral change counseling strategies are reviewed.
The mock GMV model used at Wake Forest Baptist Health is an efficient and effective tool to expand resident knowledge of the important role GMVs play in primary care. The model has been well received by the resident participants who describe their experience as interactive, engaging, and interesting. Because any type of GMV can be portrayed in the mock GMV model, it can be easily adapted at other residency training programs and institutions to satisfy GMV learning needs.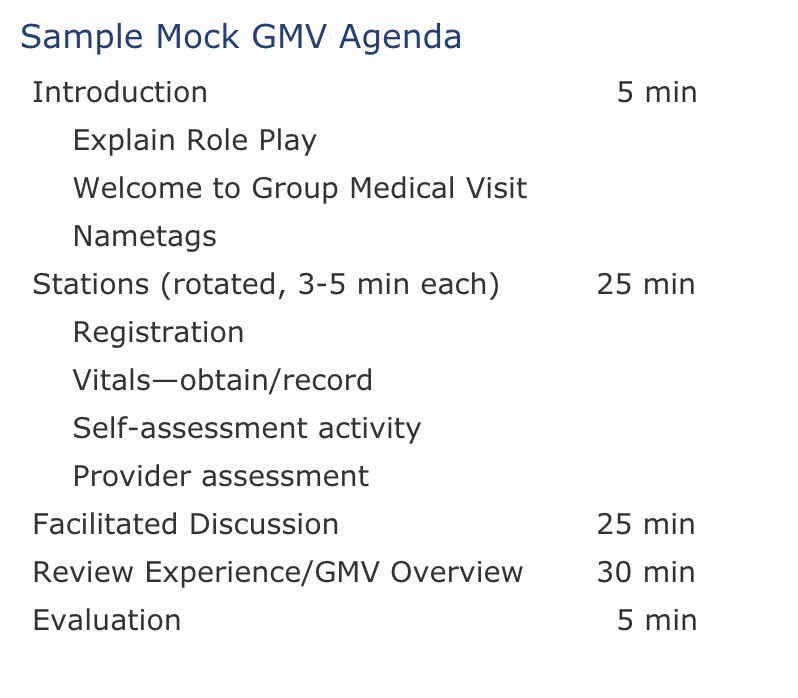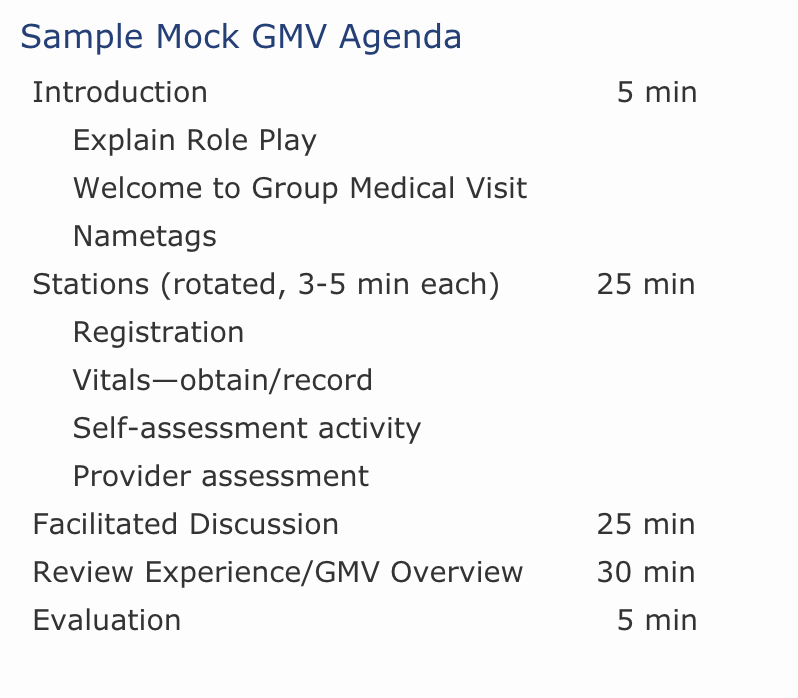 References:
Kilo C, Wasson J. Practice redesign and the patient-centered medical home: history, promises, and challenges. Health Aff 2010 May;29(5):773-8.
https://www.ncqa.org/Portals/0/Programs/Recognition/RPtraining/PCMH%202014%20Intro.
%20Training%20Slides%20Part%201%20-%20Standards%201-3%20-%2011.26.pdf.
http://www.ncqa.org/PublicationsProducts/OtherProducts/QualityProfiles/
FocusonDiabetes/ALooktotheFuture.aspx.
http://www.aafp.org/about/policies/all/shared-medical.html.