Using a Donor-Centered Development Model to Engage Community Preceptors
Joanna Drowos, DO, MPH, MBA; Mario Jacomino, MD, MPH; Mark J. Di Corcia, PhD, OTR; Lee A. Learman, MD, PhD, Integrated Medical Science Department, Florida Atlantic University, Charles E. Schmidt College of Medicine
The Community-Based Faculty Crisis
Educating medical students in community-based ambulatory settings offers patient care experiences consistent with the evolving health care delivery system. The increased reliance on community-based preceptors raises concerns about maintaining the recruitment, retention, and engagement of quality teachers and training sites in non-academic settings and how this may impact the future of community-based edcuation.1 These concerns combined with the burden on ambulatory offices to implement electronic health records, meet quality metrics, and satisfy insurance requirements, strain available potential community-based faculty.2
The Charles E. Schmidt College of Medicine at Florida Atlantic University relies on partnerships with community hospitals and physicians to provide clinical training for learners. Educational leaders at the College of Medicine remain concerned that the same pool of community-based affiliate faculty are being asked to support the development of the third-year clerkships, fourth-year rotations, and new graduate medical education programs. In order to meet these growing needs we implemented a "donor-centered" model for preceptor development.
The "Donor-Centered" Development Model
The donor-centered development model places donors at the center of the relationship and allows them to direct their relationship with the organization. Nonprofit organizations that use this model focus on the goals and aspirations of donors and build relationships by considering their interests relating to the organization. Donor-centered organizations provide prompt and meaningful acknowledgement for any gifts, assign gifts to specific projects meaningful to the donor, and provide specific reports on the impact of any gifts prior to future asks. Donor-centered giving cycles involve organizations understanding their own fundraising needs and identifying potential donors and focusing on donor motivation and passion for an appropriate fundraising ask. Donors appreciate a sincere and meaningful thank you and want to understand the impact of the gift provided. After the first gift, organizations need to foster continuing relationships with donors and gauge their interest for future projects based on their preferences.3
Donor-Centered Faculty Development
When community-based faculty volunteer their services in teaching, they can be viewed as donors making a gift to the medical school to meet a need that is compatible with their own priorities. By taking a donor-centered approach to relationships and effectively managing contributions, medical schools can appropriately recruit, develop, and ultimately retain community-based faculty.
Community-based faculty should be acknowledged for the value they add to medical education programs and should understand the impact of their contributions. In order to successfully implement a "donor-centered" model, educational leaders must integrate the educational needs of the college with the desires of community-based faculty. The model also requires sending formal and informal messages of gratitude for all contributions and recognizing outstanding efforts to motivate community-based faculty to continue their teaching activities. At our institution our affiliation letters begin with a thank you, our faculty continuously thank our community-faculty for their efforts and provide a certificate of thanks for their office, we host formal thank you and award receptions, and even have our students write thank-you letters at the conclusion of rotations. Community-based faculty also benefit from seeing the value and impact of their work. Requesting input on student evaluations and communicating student development and success outcomes can help community-based faculty retain their enthusiasm for teaching.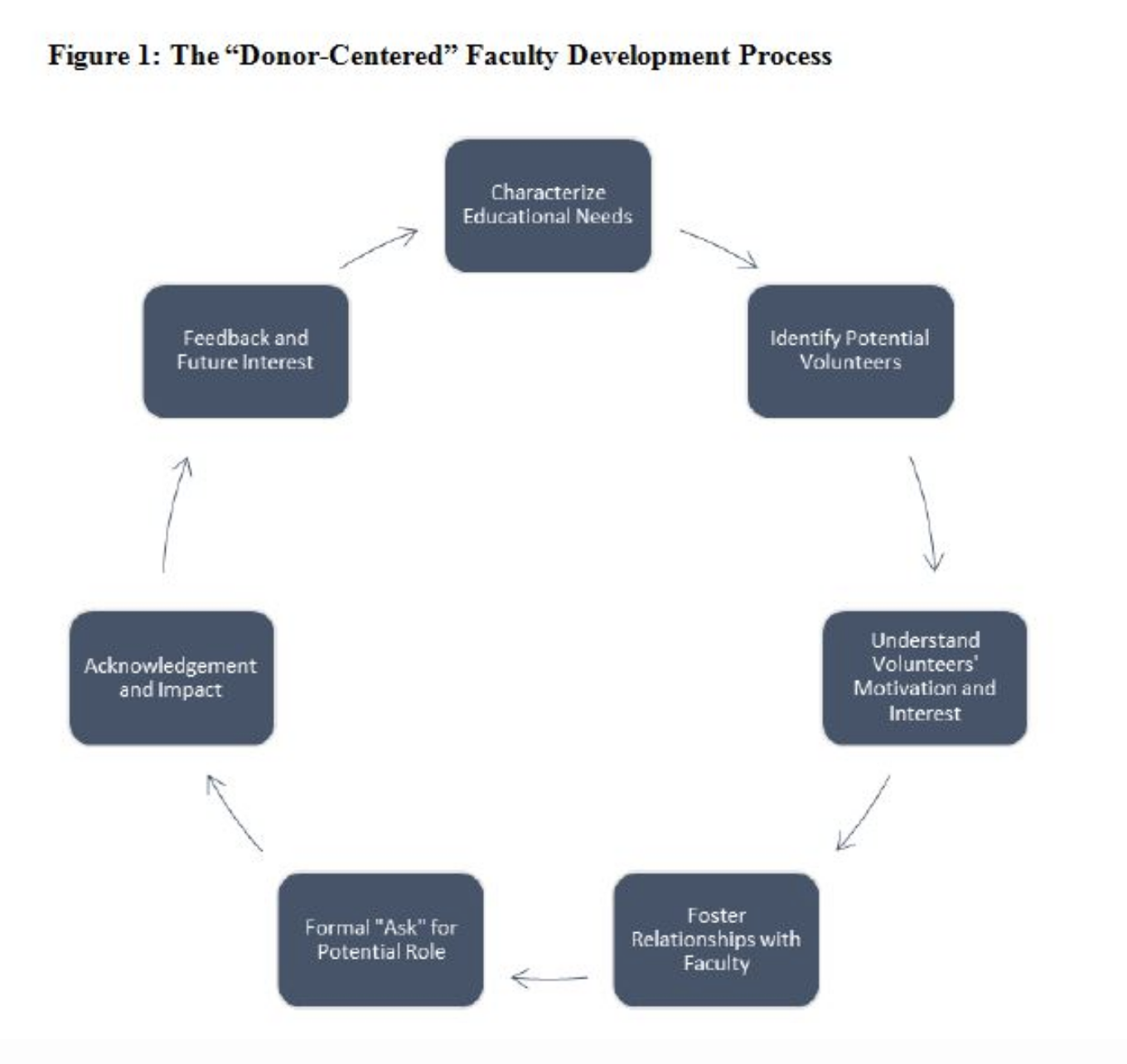 Using this "donor-centric" development model, our College of Medicine successfully engaged a pool of community preceptors to fill educational roles to match our rapid expansion. By appreciating the desire to volunteer and allowing preceptors to share in the decision of where to direct their efforts, community faculty were matched into roles they were likely to enjoy. Volunteer preceptors were able to provide feedback on their roles and share in decisions about future commitments. We are hopeful that we can retain our educational donors by continuing to provide feedback on the impact of their contributions, express gratitude, and recognize the importance of their gifts. By developing strong personal relationships between college educational leaders and community-based preceptors, a donor-centered model has the potential to alleviate the impending preceptor crisis.
References
Nutter D, Whitcomb M. The AAMC project on clinical education of medical students. Available at: https://www.aamc.org/download/68522/data/clinicalskillsnutter.pdf. Accessed May 2, 2016.
Christner JG, Dallaghan GB, Briscoe G, et al. The community preceptor crisis: recruiting and retaining community-based faculty to teach medical students—a shared perspective from the Alliance for Clinical Education. Teach Learn Med 2016;28(3):329-36. doi:10.1080/10401334.2016.1152899.
Burke P. Donor Centered Fundraising. Hamilton, Ontario, Canada: Cygnus Applied Research, Inc, 2003.