Overflow Hotel Information
The STFM room-block at the Sheraton Centre Toronto Hotel may be sold out.
For additional accommodations in an official STFM "overflow hotel", please contact A Room With A View (ARWAV) Monday-Friday 9am–5pm CST, this is a FREE SERVICE for all STFM attendees:
Email: reservations@aroomwithaview.net
Phone: 1+(800)780-4343
ARWAV will secure the lowest available rates at the best available hotels within walking distance to the Sheraton (headquarters hotel). Reservations processed by A Room With A View are automatically on a waitlist for rooms at the Sheraton, should cancellations occur within the STFM group block at the discounted group rate.
If you have a reservation at the Sheraton Centre Toronto Hotel and you need to cancel, please contact A Room With A View to cancel your reservation. A Room With A View will confirm your cancellation with the Sheraton, and we may potentially be able to give your room to another attendee wishing to stay at the Sheraton.
Conference Hotel
SHERATON CENTRE TORONTO HOTEL
The Sheraton Centre Toronto Hotel is perfectly situated in the heart of downtown's financial and entertainment districts. All of Toronto's attractions, from Eaton Centre to CN Tower, are within easy reach of our family-friendly hotel. The subway is also close at hand for added convenience.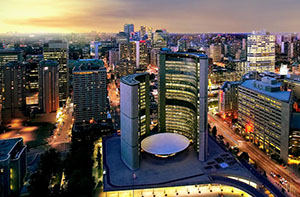 Travel
Airline Reservations
For assistance in making your airline reservations for the conference, call Reward House, Inc, at 877-353-6690 or 816-295-3131. You can also email your questions or travel preferences to jhilburn@rewardhouseinc.com for online assistance. Office hours are 8:30 am–5 pm (central time) Monday through Friday.
Special Travel Discount for Travelers Booking Flights with Air Canada
Air Canada offers discounts on flex fares and up for the 2019 STFM Annual Spring Conference in Toronto, Ontario, Canada. Simply add the code 4RGAAQF1in the promotion box when you book your flight at www.aircanada.com and the discounts will automatically calculate for you. Discounts also apply 7 days pre-and post-event dates to provide more flexibility. For any questions, please contact meetings.events@aircanada.ca. 
Ground Transportation
Various transportation options are available from area airports to the Sheraton Centre Hotel.  The hotel does not provide shuttle service to/from airports.  (Note:  All prices listed are in Canadian dollar.)

From Pearson International Airport
UP Express—Visit UPexpress.com before April 27, 2019 and use promo code STFM2019 at checkout to get your 25% discount on adult return tickets (round-trip) from Pearson Station to Union Station (regular price $24.70* CAD).  UP Express connects Toronto Pearson International Airport to Union Station in just 25 minutes. Trains leave every 15 minutes.  First train departs Pearson Station at 05:27 and the last train departs at 00:57. Directions to the Sheraton Centre Hotel Toronto from UP Union Station: head north on York street.  The hotel will be on the east side of York Street between Richmond and Queen Streets (just 4 blocks north of Front Street).
Transfer services by limousine, taxi, or rideshare is approximately 30-45 minutes

Taxi – $50.00-$55.00 one way (approximatel
Limos – $55.00 one way (approximately)
Ride Sharing—Uber and Lyft

Public Transit - Toronto Transit Commission (TTC)
From Billy Bishop City Airport:
Complimentary Shuttle – Shuttle drops off at Front and York Streets, then it's a 10-12 min walk to the Sheraton Centre
Transfer services by taxi or rideshare is approximately 15-20 minutes
Public Transit -Toronto Transit Commission (TTC)

Fares
Exit airport and walk to Queens Quay West (approx. 3 min) and take TTC Street Car (trolley cars) to Union Station. From Union Station it's a 10-12 minute walk to the Sheraton Centre or by underground train its two stops. 
Toronto, Ontario
Bonjour et bienvenue au congrès de l'American Society of Teachers of Family Medicine.  Nous sommes ravis de vous accueillir à Toronto.
Welcome to Toronto, a continental gateway and international crossroads where people love to meet. Toronto is one of the world's most cosmopolitan cities. Warm, welcoming, chic, elegant, and vibrant, Toronto is a city that celebrates life in all dimensions. As one of the most multicultural cities in the world, Toronto is enriched by an exciting fusion of traditions, passions, flavors and perspectives of the over 100 cultures that live here. Global cultural influences converge with that unique dash of Toronto hospitality and flair, resulting in an amazing line-up of spectacular event venues, hotels, over 9,000 restaurants, fashion, entertainment, culture, arts, shopping, attractions, events, festivals, neighborhoods, and architecture. Nightlife and entertainment abound with 200 dance and theatre companies offering everything from mega-musicals to avant-garde works. A city of contrasts, Toronto's skyline features a juxtaposition of glittering skyscrapers, the CN Tower (a Modern Wonder of the World), historic facades, beautiful parks, miles of waterfront, boardwalks, and trails. Beyond city limits are breathtaking attractions, such as Niagara Falls, a renowned wine region, outstanding theatres, and outdoor adventures—all within a short drive.
 For more information, visit http://mtm.seetorontonow.com/stfm19/ 
Indigenous Land Acknowledgement 
We would like to acknowledge the Mississaugas of the New Credit on whose territory we are guests.  We express our gratitude to them as well as the Wendat [wen-dat], the Anishnaabeg [ah-nish-nah-beg], Haudenosaunee [ho-den-oh-sho-nee], Inuit and Métis people for their stewardship of the land.   We would like to recognize that the relationship our ancestors and Indigenous Peoples had with each other and with the land are described in the Treaty of Niagara of 1764 and remain important to Canada today. The Society of Teachers of Family Medicine hopes that our meeting in Toronto will be creative and fruitful, in keeping with the traditional use of this land as a gathering place, and that visitors to the area will take the opportunity to make new connections not only with one another but also with diverse local communities. Learn More
Questions?
If you have questions about the Annual Spring Conference, contact 800.274.7928 or email stfmoffice@stfm.org,