Candidate for STFM Treasurer
Byron Jasper, MD, MPH, Byja Health Systems, Inc, Baton Rouge, LA
Personal History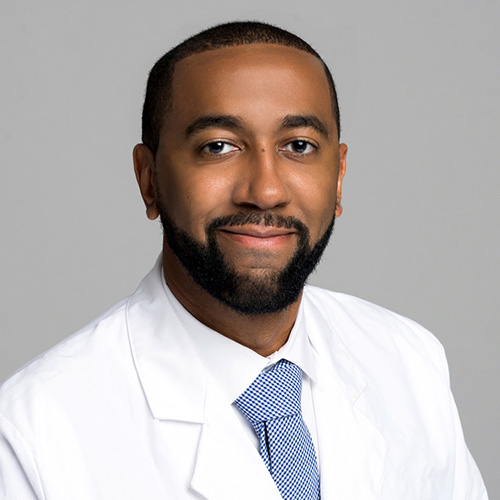 Originally from Houma, LA, Dr Byron Jasper grew up the youngest of his family. He is a proud alumnus of Xavier University of Louisiana and received his medical degree from Tulane School of Medicine (SOM) and master's degree from Tulane School of Public Health and Tropical Medicine. Dr Jasper went on to complete his family medicine residency at Baton Rouge General Family Medicine Residency Program. He then completed two fellowships, one in Community Health Leadership Development at Georgetown University SOM and the other in HIV and Hepatitis C (HCV) in Primary Care at Providence Hospital in Washington, DC.
Upon completion of his fellowships, Dr Jasper returned to southern Louisiana to work at a federally qualified health center in Baton Rouge to continue caring for indigent and underserved patients. While doing this Dr Jasper decided that he would like to pursue more of a teaching role in clinical medicine and joined the Baton Rouge General FMRP as clinical faculty. During his time as a faculty member, he served as the American University of the Caribbean SOM family medicine clerkship director, medical director of the Graduate Medical Education HIV and HCV Program, chair of the HIV/HCV Committee, chair of the Diversity and Inclusion Committee, lead faculty of Curriculum and Educational Development, and Lead faculty of the Specialty in Primary Care Clinic.
Dr Jasper now serves as the founder, national president, and executive director of the non-profit organization Comprehensive Medical Mentoring Program, and most recently, he became the founder and CEO of Byja Clinic, the first and only Black-owned direct primary care clinic in Louisiana. He is also a member of the American Academy of Family Physicians and cochair of the STFM HIV and Viral Hepatitis Collaborative.
Position Statement
It is with much surprise and excitement that I accept the nomination of Treasurer for Society of Teachers for Family Medicine. I endeavor to serve as a member of the national leadership of this amazing organization with integrity, transparency, diligence, and honesty, while remaining candid in my approach to the tasks, challenges, and goals we hope to achieve. It is not by some small miracle that I made it into the medical field nor by a strange marvel that I continue to excel in both academic and clinical medicine. I truly believe these results have come with my knowing how to work hard, persevere, remain humble, always stand up after being knocked down, ask for help whenever needed, use resources efficiently and effectively, remove self-doubt, continuously uplift others, and value the power of teamwork. These are but a few principles I live by and will assuredly bring to this role so that the strategic plan of STFM is advanced and its mission fulfilled.
It is a tremendous honor to be nominated for the position of STFM Treasurer. It is an appointment that I do not take lightly and will strive to always reach back to help those in need so that we all can move forward and be better, together. Thank you for your consideration.
Answers to Candidate Questions
What actions does STFM need to take to move STFM toward the goal of being the indispensable professional home for all family medicine educators?
I believe STFM has continuously been at the forefront of academic excellence and progressive thinking within many areas of family medicine education. To ensure that we consistently grow our reach to more educators in family medicine, we must consider innovative ways to connect with residents, medical students, and other learners so that they recognize the field of academics as a viable and fulfilling community. If we are successful in making these connections early on by meeting these younger and vastly diverse clinicians where they are, their transition from learners to professional educators will be natural and enthusiastic. To put it plainly, if we reach back and do it well, the phrase "there is no place like STFM" will be commonplace among more and more family medicine educators.
Choose one or two key challenges you anticipate that STFM will face in the next 3 years and describe a potential course of action to address each challenge.

Perhaps the most complex and significant challenge that STFM continues to face is that of increasing diversity in the medical field so that it is a greater reflection of the communities that we family medicine clinicians and educators serve. This is not a new challenge nor is it one that STFM is unfamiliar with; but it is one that remains ever present in the world we live in today. I do believe that our organization has been at the forefront of creating new and innovative programs to tackle this issue, and I understand that this can become a space where other organizations begin to learn how to create effective changes around increasing diversity. To ensure that the changes we seek are sustainable and able to withstand resistance from those who prefer to maintain the status quo, we must put forth strong policies backed by intentional practices and not be afraid to step outside of the proverbial comfort zone of traditional academic and clinical medicine. This can come in the form of scholarships and paid internships for students of color, loan repayment for medical students that are interested in family medicine, pipeline programs with unique approaches to mentoring, and adjusting our interview criteria and selection process. These are but a few actions that can result in meaningful and exponential growth in this space.

Share your experience at bringing people together with diverse agendas and finding common ground.
Remaining open-minded and willing to learn about others' experiences, struggles, and approaches are keys toward building a welcoming space for diverse groups. These approaches are something that I have used during my time in many roles, activities, events and organizations. I understand their necessity in order to move our commonly shared mission forward in a productive way where many perspectives and ideas are being considered. Having learned these values and their importance when working with diverse teams, I have made sure to use them in my approach with medical students, residents, fellow faculty members, administrators, hospital and clinical leadership, and even my own students in my non-profit organization. Regardless of their backgrounds, beliefs, or professional levels beliefs, I try to always remember that each person's experiences bring value, and we can always learn from one another based on those experiences and values alone.